Sono stati fermati in un garage.
Erano molto probabilmente pronti a compiere un altro agguato mortale. Intanto, secondo quanto riporta il Corriere.it, una turista francese avrebbe assistito all'esecuzione avvenuta il 9 agosto e la sua testimonianza è ora al vaglio degli investigatori. Gli arresti dei quattro pregiudicati sono avvenuti a Torremaggiore, a pochi chilometri da San Severo, nel corso di un controllo compiuto dai carabinieri del Comando provinciale di Foggia, in collaborazione con il personale recentemente giunto in rinforzo a seguito dell'agguato di San Marco in Lamis e altri recenti episodi di criminalità avvenuti in provincia.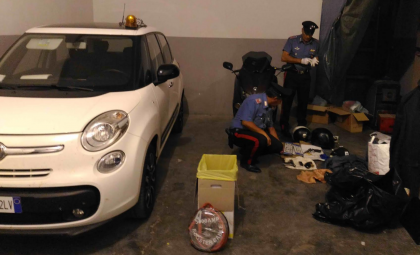 I militari hanno anche sequestrato una pistola semiautomatica Beretta 98FS calibro 9×21, con matricola cancellata, completa di 15 cartucce; un revolver Smith&Wesson 38 special con matricola cancellata, completo di 6 cartucce, e un revolver Renato Gamba Trident calibro 38 special con matricola punzonata, completo di 6 cartucce.
Nel foggiano, nella stessa zona teatro della strage di tre giorni fa oggi sono stati arrestati quattro pregiudicati. Oltre alle armi sono state trovate una Fiat 500 risultata rubata a Gravina di Puglia l'8 giugno; uno scooter Yamaha Tmax rubato a Loreto Aprutino a maggio e due coppie di targhe d'auto contraffatte, una targa per moto contraffatta, una maschera carnevalesca e materiale vario per il travestimento.
North Korea's Nuclear Weapons Program Has Grown With Each Kim Regime
Andersen Air Force Base hosts a Navy helicopter squadron and Air Force bombers that rotate to Guam from the USA mainland. It did so to compensate for US forces diverted from other bases in the Asia-Pacific region to fight in the Middle East.